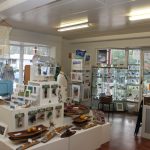 Retail Giftware & Food Business FOR SALE Margaret River
Location: Margaret River
Ref No.: #661
INCREDIBLY SIMPLE TO OPERATE
SELLING
BEAUTIFULLY  CRAFTED GIFTS &
REGIONAL FOOD
CENTRAL MARGARET RIVER
A one person business but you need to have someone help you in the peak retail times of the Region.  It is the perfect h & w or partnership of friends/family business.
·         Solid Sales
·         Bussell Highway exposure
·         Stock currently around $30,000
·         Long lease & big functional shop
·         Secure long- standing supply chain
The business operates on minimal wages as usually one person can handle the sales on most days. The current owner has chosen to work 3 or 4 days a week, A new owner will decide what they want to do.
Be assured of strong support from the owner to learn the ropes and have a good settling in period. And the opportunity to travel to buy new and different lines is always something for  a new owner to plan for..
A beautifully  presented retail store that draws you in and delights you at ever turn in the huge 160 m² floor space.
High Profile Margaret River Businesses like this  are rare. This business should be reviewed by anyone seeking a solid safe and dependable business who wants to add their own flair and add in other stock lines that the shop's size could easily take on.
Price: Just $19,000 plus stock