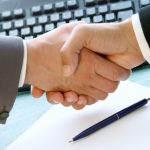 Net Profit $375,297 Business to Business-Written Contracts-Contracts-Office Services-Bunbury- Business FOR SALE
Location: Bunbury
Profit: $375,297
Ref No.: #657
LONG-TERM WRITTEN CUSTOMER  CONTRACTS
BUSINESS TO BUSINESS
MONDAY TO FRIDAY
 Net Profit for 2018 $375,297
Established in 1983 and the same owner since 2002. this Bunbury business has been providing solutions & services  to Bunbury and surrounding businesses for over 30 years.
The business sells & maintains a range of essential business equipment.
500 contracts in place.
Very Secure supply chain through a world wide dealership
Stock $175,000
Equipment & Vehicles $103,000
This business offers a safe and secure income with very low risk due to its contracted clients and is well poised to pick up once the economy turns.
$938,000