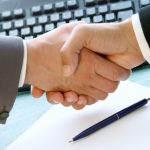 Business to Business-Written Contracts-Contracts-Office Services-Bunbury- Business FOR SALE
Location: Bunbury
Profit: $409,639
Ref No.: #657
LONG-TERM WRITTEN CONTRACTS
Average Net Profit $409,639 for 2017 & 10 months to April 2018
Established in 1983 and the same owner since 2002, this Bunbury business has been providing solutions & services  to Bunbury and surrounding businesses for over 30 years.
The current owner has owned  this wonderful  wealth builder for 16  years and wants to retire!!
The business sells & maintains a range of essential business equipments and its customers include Government and local Government departments, schools and a large number of local businesses.
Owner has built up a team of customer focussed and highly skilled people to ensure the business can operate with a new owner in an administrative and perhaps partial sales role.
Over 500 contracts in place.
High Exposure Bunbury City location.
The very long term customer base.
The customers enter into binding contracts of 3 to 5 years
Loyal customer following.
Very Secure supply chain through a world wide dealership..
Over 200 Clients who are all businesses or Government Bodies.
This business offers a safe and secure income with very low risk due to its contracted clients and is well poised to pick up once the economy turns.
$1,100,000