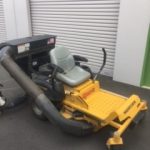 SOLD BY ADRIAN SEALE Lawn Mowing Round Bunbury FOR SALE
Location: Bunbury
Ref No.: #636
NOW SOLD
LAWNMOWING ROUND

BUNBURY & SURROUNDS
  Lots of commercial customers and a number of ride on mowers to get the jobs done fast so you make the big hourly rates.
Works Australind to Busselton so could suit anyone in the SW, owner lives in Australind area.
Plant & equipment includes 2 ride on and a 2015 zero turn mower. The self-propelled reel mower is in excellent condition and mostly the self-propelled Honda rotary is used. And line trimmer; NOTHING to spend…no expense spared here as time is money.
Home based business so no rent to pay.
Don't delay, get set up for the summer where the business will make you big dollars. You can't go wrong:
Lots of regular commercial customers
Lots of household regular customers
Top equipment …so no silly breakdowns
No staff
A busy profitable business
This is a top business, DON'T DELAY CALL ME NOW to discuss this great easy to run business. I have a full information pack on this business that has all the information you and your accountant need to make an informed decision, don't miss out, call me right now. All you need is a Ute to pull the trailer and you are in business for yourself.