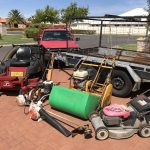 NOW SOLD #613 Lawn mowing Round FOR SALE in Bunbury $25,000
Location: Bunbury
Profit: Gross average $1000/week
Ref No.: 613
NOW SOLD
PRICE REDUCED TO $25,000
LOW HOURS  LAWNMOWING ROUND
BUNBURY
A round with 8 solid  commercial customers, a large domestic round Gross average earnings  circa  $1000 week.
With low overheads
Plant & equipment includes a commercial grade Ferris zero-turn self-propelled mower NOTHING TO SPEND. The reel mower is picture perfect has had $2000 spent on  a motor, reel and catcher.
The owner reports easy hours a day.
It has a ute , 2 trailers and all the gear needed
Don't delay, a great set up for the person wanting to start a round or a great add on for the established operator, as the owner will split customers from equipment. You can't go wrong:
WRITTEN CONTRACT FOR 3 YEARS WITH LARGEST CUSTOMER (ABOUT $500 PW)
This is a top business, DON'T DELAY CALL ME NOW to discuss this great easy to run business. I have a full information pack on this business that has all financial statements & other  information you and your accountant need to make an informed decision, don't miss out, call me right now.
PRICE $25,000 
*Customers/goodwill/
contract