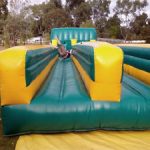 #608 Bouncy Castle Business FOR SALE South West $45,200
Location: South West, Busselton
Ref No.: 608
A LITTLE BEAUTY
NO GOODWILL
NO WORRIES!
Simple to operate and the perfect business for a husband and wife team looking to work an average of only just TWO  DAYS A WEEK ( and a bit of telephone and email for the bookings and customer service)
NOTHING BEATS A BOUNCY CASTLE BUSINESS
We would describe this as a perfect small business package. No staff/or casuals if you want
Only Equipment $45,200
You will need your own ute.  
Includes a guaranteed $10,000 of income over the first 12 months of ownership in addition to what you will generate.