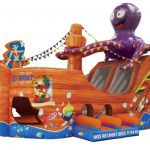 #608 Bouncy Castle Business FOR SALE South West $158,000
Location: South West, Busselton
Ref No.: 608
A LITTLE BEAUTY
NO GOODWILL
NO WORRIES!
Owner has had this for going on 3 years and it is to busy for them to cope with their usual jobs! This children and adult entertainment business is booming and the owners can show an exceptional return for the low hours they put into it.
Simple to operate and the perfect business for a husband and wife team looking to work an average of only just TWO  DAYS A WEEK ( and a bit of telephone and email for the bookings and customer service)
We would describe this as a perfect small business package.
Stock only $5,000

No staff/or casuals if you want

No Goodwill

$153,000

Govt, Corporate and Private customers.

Seasonal so great for those people who like to head north for the winter for a month or two.
$158,000
For equipment
and stock.
You will need your own ute to pull the trailer. (or buy theirs' as an optional extra)