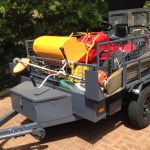 NOW SOLD #607 Lawnmowing Round FOR SALE Bunbury $42,000
Location: Bunbury
Profit: $31,345/year, avg 20 hours/wk
Ref No.: 607
NOW SOLD

A round with lots of commercial customers and a ride on mower to get the jobs done fast so you make the big hourly rates.
Gross earnings $750 to $1000
Plant & equipment includes a 2 ride on's and a self-propelled mower  NOTHING TO SPEND. The reel mower is picture perfect has been well maintained , no expense spared here as time is money.
The owner reports average weekly hours of around 20 , bit more in summer, bit less in winter
Don't delay, get set up for the summer. You can't go wrong:
Lots of regular commercial customers
Lots of household regular customers
Top equipment …so no silly breakdowns
Home by 2pm and flexibility for the commercial customers so can do early mornings , even the weekend, if it suits you.
This is a top business, DON'T DELAY CALL ME NOW to discuss this great easy to run business. I have a full information pack on this business that has all the information you and your accountant need to make an informed decision, don't miss out, call me right now. All you need is a reliable ute (negotiate to buy his )  and you are in business for yourself.
 Price $42,000