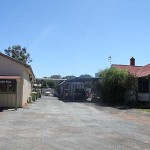 SOLD *Duranillin Agencies* FOR SALE $270,000 Plus Stock
 Now Sold
Duranillin Agencies
The Landmark Agency and general store , Liquor Licence and Community Post office located at Duranillin about 40 minutes south of Collie comprises two titles, one has the home the other next door the business premises. This is the  perfect opportunity to live in the beautiful and strong farming area of wheat & Sheep and have an excellent income for a husband and wife team. In fact it is probably big enough to support two families with an excellent income.
ü  Freehold                   $185,000
ü  Stock                        $160,000
ü  Plant & Equipment     $20,000
ü  Truck ( optional)         $65,000
This business will suit anyone who loves the outdoor  life and can provide a good level of customer service, though someone with a background knowledge of farming will have an added advantage.
Price $270,000 plus stock
(Or $205,000 plus stock without truck)
What to do next?
Request a confidentiality deed (Located at the top of the page).
Once you have completed the online form and submit the information you will receive a personalised agreement by email which you then sign, date and witness and send back to us.
Upon receipt of the deed you will receive a detailed information memorandum as soon as it is completed.